Sarah Axelson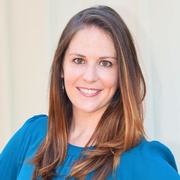 Director of Training
---
Biography
Sarah Axelson, MSW, is the Director of Training at ETR. She leads the conceptualization, expansion, and management of ETR's high-quality training and professional development work across the four content areas. Sarah also works on ETR's K12T9 Initiative by leading efforts to identify, develop, and disseminate professional development interventions that help eliminate sexual and gender-based harassment from our nation's schools.
In her previous position, Sarah served as a Project Officer for the Adolescent Pregnancy Prevention Program in the U.S. Department of Health and Human Services, Administration on Children and Families, Family and Youth Services Bureau. She administered grants and provided technical assistance and training to more than forty Personal Responsibility Education Program (PREP) grantees throughout the United States and U.S. territories that were implementing evidence-based and innovative adolescent pregnancy prevention programs.
Prior to her position with the federal government, Sarah was the Program Manager for Teen Pregnancy Prevention Initiatives at Advocates for Youth, where she managed a multi-year grant from the Centers for Disease Control and Prevention that provided training and technical assistance to state organizations on teen pregnancy prevention.
Sarah also managed several grants in the Contraceptive Access department, providing training and TA to community-based organizations, working with clinics to implement an innovative text messaging campaign, and developing and training peer education groups to work on adolescent sexual and reproductive health issues. Sarah has presented at numerous local, state, and national conferences.
A native of Northern Virginia, Sarah brings both social work and organizational leadership experience to the reproductive health field. She is a graduate of James Madison University with a double major in communication studies and foreign languages. She earned a Master's Degree in Social Work and Certificate in Nonprofit Leadership from the University of North Carolina-Chapel Hill.
Sarah currently serves as an Adjunct Professor at The George Washington University's Milken Institute School of Public Health in Washington DC.
---
Publications
Burrus, B., Kreiger, K., Rutledge, R., Rabre, A., Axelson, S., Miller, A., White, L., & Jackson, C. (2018). Building Bridges to a Brighter Tomorrow: A Systematic Evidence Review of Interventions That Prepare Adolescents for Adulthood. American Journal of Public Health 108(S1), S25-S31.
King Bowes, K., Burrus, B., Axelson, S., Milagros, M., Kimbriel, A., Abramson, L., Gorman, G., Dancer, A., White, T., & Beaudry, PJ. (2018) Reducing Disparities in Adolescent Pregnancy Among US Tribal Youths. American Journal of Public Health 108(S1), S23-S24.
Martin, S. L., Ashley, O. S., White, L., Axelson, S., Clark, M. and Burrus, B. (2017), Incorporating Trauma-Informed Care Into School-Based Programs. J School Health, 87: 958–967. doi:10.1111/josh.12568.