Laura Norvig, MLIS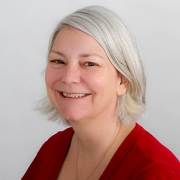 Database/Social Media Managert
(831) 438-4060 x116
---
Biography
Laura is the Digital Media Strategist at ETR, where she applies her seventeen years of experience in the nonprofit sector to the content, digital marketing, and social media strategies of ETR.
Ms. Norvig keeps abreast of new developments in social media, creating and implementing social media strategies, and training other staff to actively participate in social media. In her prior work with ETR she provided community management services to the federally funded National Service Resources and Training project for thirteen years, including developing web-based online learning communities for Corporation for National and Community Service grantees, and developing an online repository of user-generated documents for the national service community.
Ms. Norvig received her M.L.I.S. from San Jose State University where she focused on taxonomy, information architecture and usability. She has presented numerous times at the National Conference on Volunteering and Service; the National Service-Learning Conference; and at NTEN's Nonprofit Technology Conference on information resources, online community building, and various aspects of social media tools and practices.
---
Publications
"Building and Supporting Your Drupal Website: In-House, Outsourced, or Both?" Nonprofit Technology Network Blog, January 4, 2012
"Friendfeed As Nonprofit Technology Water Cooler" Beth's Blog, July 20, 2009