Janis Ho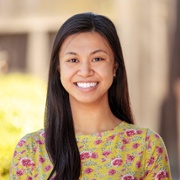 Project Coordinator
(916) 739-8927
---
Biography
Janis serves as a Project Coordinator for the Communities Energized for Health project to promote smokefree policies in multi-unit housing and casinos.
Before joining ETR, she developed and taught a public health curriculum for high school students in Vallejo, CA, and worked with youth to promote their leadership, research, and advocacy skills. She has also spent time at UC Davis Health working on several research projects examining cognitive impairment, mental health, and caregiver burden among the Vietnamese community in Northern California.
Janis received her Bachelor of Science in psychology from UC Davis and Master of Public Health from Touro University California. Her passion lies in health promotion and achieving health equity through a social justice lens.