Chantelle Comeau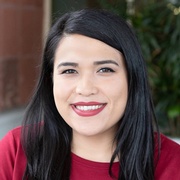 Community Outreach & Advocacy Specialist
(831) 438-4060 x136
---
Biography
Chantelle is elated to be working with ETR as a Community Outreach & Advocacy Specialist and in this role, she will be coordinating, developing, and executing outreach for the Statewide Rural Coordinating Center in collaboration with California Health Collaborative (CHC).
Chantelle Comeau has lived in the Sacramento area for the last 8 years. Her experiences in the diverse city have wholeheartedly solidified her passion for public service. She graduated from Sacramento State University in 2015, with a degree in Speech Pathology and Audiology. During her undergrad career, she had the opportunity to work as a residential counselor at the Children's Receiving Home and had the opportunity to serve as a site coordinator for AmeriCorps Reading Partners.
Her affinity for public service soon turned global; one year after graduation she was accepted into the Peace Corps as a Community Education Promoter in Guyana, South America. During her service, she had the opportunity to serve on the Gender and Development Taskforce of Guyana, working under Michelle Obama's Let Girls Learn initiative. Upon returning to the country, she had the opportunity to serve alongside Placer County's Child Abuse Prevention Council, KidsFirst, as their Volunteer, Community Education, and Outreach Manager.