"Yes Means Yes" – ETR Publishes New Title on Affirmative Consent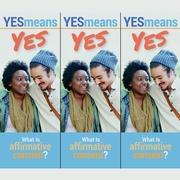 January 20, 2015 – ETR has just published a new pamphlet on affirmative consent—also known by the shorthand "Yes Means Yes."
Many working in the sexual and reproductive health field have been pleased to see attention being paid to the standard of affirmative consent, the increasingly popular basis of sexual assault policies. The standard requires partners to obtain "an affirmative, conscious and voluntary agreement" before engaging in sexual activity.
California Governor Jerry Brown recently signed legislation requiring that colleges and universities receiving state assistance apply this standard in their policies and procedures.
Other college campuses nationwide have adopted or are considering adopting consent standards as they focus efforts on sexual assault policymaking. There are also youth programs that teach the foundational concepts of a healthy approach to relationships by emphasizing consent and respect for one's partner.
The new pamphlet defines the affirmative consent standard, encourages healthy communication around sexual relationships and describes how to set limits and give or deny consent. Learn more >>