New Campaign Promotes PrEP to Prevent HIV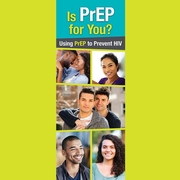 March 22, 2016 – ETR is excited to see the emergence of new public health campaigns such as PrEP4Love, designed to raise awareness of PrEP (pre-exposure prophylaxis) to prevent HIV infection. The AIDS Foundation of Chicago launched the sex-positive media campaign with a simple message: "One pill. Once a day. Protect against HIV."
The FDA approved using the drug Truvada as PrEP in July 2012. And in May 2014, the U.S. Public Health Service released the first comprehensive clinical practice guidelines for PrEP. There is still work to be done to inform providers who are unfamiliar with the treatment as well as people in communities that are particularly vulnerable to HIV.
ETR's pamphlet "Is PrEP for You?" (available in both English and Spanish) is designed to support this mission. People at risk for HIV want to know if PrEP is a good option for them. They want to know what it means to be on PrEP and how to talk with a provider about starting the treatment. This pamphlet addresses these and other essential questions with practical, accurate and user-friendly information.