ETR Board Member Jay M. Bernhardt Appointed Dean at Moody College of Communication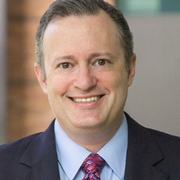 February 23, 2016 – Jay M. Bernhardt, PhD, MPH, has been appointed dean of the Moody College of Communication at The University of Texas at Austin effective March 1, 2016. He has served as interim dean since September 1, 2015.
UT Austin President Gregory L. Fenves noted, "Jay has an ambitious vision for the future of Moody and in the last six months has demonstrated himself to be a champion for excellence in the college." As interim dean, Dr. Bernhardt focused on building bridges within the college and across the campus with interdisciplinary courses and programs to prepare students for the communication industry that is rapidly changing.
With an extensive background in health education and digital health and wellness, Dr. Bernhardt is internationally recognized for his expertise in the application of communication, marketing and media to public health, health care and medicine. He previously served as the director of the National Center for Health Marketing at the Centers for Disease Control and Prevention.
Dr. Bernhardt has been an active member of ETR's Board since May 2013. We wish him the best in this new endeavor, and congratulate Moody College on bringing his vision and talent to their organization.