Improving Access to HIV Care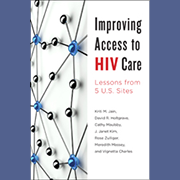 January 14, 2016 – ETR is excited to report the release of an important new book, Improving Access to HIV Care: Lessons from Five U.S. Sites, written by a team of authors that includes Dr. Vignetta Charles, ETR's Chief Science Officer. This vital text explores the dilemma of how to better link and retain people living with HIV in ongoing primary care.
A multipart case study examines successful strategies and provides detailed profiles of the organizations involved and their processes for reaching, linking, and retaining clients. Authors explore barriers to and facilitators of implementation, use network analysis to assess changes in interagency collaboration among organizations serving people living with HIV, and offer evidence-based recommendations for improving linkage to HIV care in the U.S.
Kriti M. Jain is senior research assistant at the Johns Hopkins Bloomberg School of Public Health. David R. Holtgrave is a professor and the chair of the Department of Health, Behavior, and Society at the Bloomberg School. Cathy Maulsby is an assistant scientist at the Bloomberg School. J. Janet Kim is a doctoral student at Tufts University's Gerald J. and Dorothy R. Friedman School of Nutrition Science and Policy. Rose Zulliger and Meredith Massey were doctoral students in public health at the Bloomberg School at the time of writing. And Vignetta Charles was the senior vice president of AIDS United at the time of writing.
In honor of the book's release, publisher Johns Hopkins University Press is offering a special discount. Simply use the code "HNAF" at checkout to save 30% on the purchase price.