Evidence-Based Programs Training of Trainers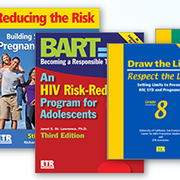 May 26, 2015 – ETR will hold an Evidence-Based Programs (EBP) Training of Trainers (TOT) September 15-18, 2015, in New Orleans, LA. This event is designed for highly seasoned trainers who wish to complete ETR's certificate program making them eligible to train on one of three EBPs: Draw the Line/Respect the Line (DTL/RTL), Reducing the Risk (RTR), or Becoming a Responsible Teen (BART).
Participants will engage in rigorous, interactive and research-based learning in a fun and supportive environment. By the end of the process, trainer candidates will have the advanced skills needed to successfully train educators to implement their chosen EBP with a high degree of comfort and fidelity.
Candidates who complete all TOT requirements will receive:
ETR's TOT certificate of completion authorizing them to conduct Training of Educators (TOE) using the ETR training design
A copy of ETR's research-based training design for their chosen EBP
Access to ETR's dynamic trainer resource web page specifically designed for certified trainers
An ongoing connection to a network of skilled trainers and ETR professional developers
Candidates attending this TOT must have completed an ETR-authorized TOE on the chosen EBP. It is highly recommended that these candidates also have experience implementing the chosen EBP with youth.
Please note: Trainer candidates will only be certified in one program after completing this TOT. However, candidates completing this TOT will be eligible to attend future condensed versions of the TOT targeting additional EBPs.
Registration Deadline: August 1, 2015.
To register, or for additional information, please contact ETR through our Program Support Help Desk, or contact Annika Shore, Professional Development Consultant, at 360-888-3005.