ETR Wins NSF Grant to Synthesize Research on Benefits of Computer Game Programming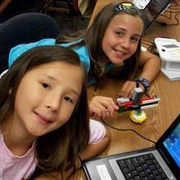 December 23, 2013 – ETR recently won a 2-year grant from the National Science Foundation (NSF) to systematically gather and synthesize research on how children benefit from computer game programming (CGP).
There has been a recent surge of interest in getting more children to learn programming, as a way to attract youth to STEM fields, and, in the past decade, many tools have been developed for children and youth to design and program computer games. As a result, a number of research projects (including ETR's) have looked at how and what children learn from CGP, and what teaching strategies and tools promote different types of learning. But until now there has been no synthesis across these various projects.
ETR's systematic synthesis of what has been learned from studies on the design and use of CGP will make this knowledge more broadly available to people who are designing game programming tools and to educators who want to optimize what students learn through making computer games.
To learn more about the NSF-funded project on the benefits of computer game programming, please contact Dr. Jill Denner, Senior Research Scientist, at jilld@etr.org or Shannon Campe, Research Associate, at shannonc@etr.org.