ETR Welcomes MBA Team from University of Michigan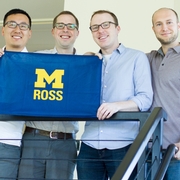 March 26, 2015 – ETR is honored to be hosting a team of four University of Michigan Ross School of Business students who have selected our organization for their Multidisciplinary Action Project (MAP). The University of Michigan Ross School of Business develops leaders through programs that incorporate positive business practices, action-based learning and analytical rigor.
All full-time Ross MBA students participate in a 7-week MAP that puts them in real-world situations and challenges them to identify solutions to important and complicated issues that can make a genuine difference in the world. The multidisciplinary team is absorbing an immense amount of information about ETR's mission, work, and partners. The students are spending two weeks on-site in our Scotts Valley and Oakland offices, exploring a range of issues facing our unique nonprofit.
The team is building from ETR's body of work in Youth and IT. They are exploring ways to create new partnerships between the non-profit, business, and educational sectors and develop an ecosystem to advance the vital work of bringing STEM learning opportunities to young women and men. The project culminates in a set of recommendations that can help ETR and its partners scale social impact and create positive change.
We express our appreciation to the Ross School of Business and to our MAP team: Max Dixon, Jason Jackson Wallace, Shukun Ma and Fulton Breen. The team's enthusiasm, professionalism and creative thinking have already served as an inspiration to our staff. We look forward to their final results!