ETR Welcomes 2018 Kirby Summer Intern Anisha Singh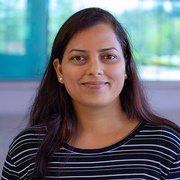 June 28, 2018—ETR welcomes Anisha Singh, MPH, our Kirby Summer Intern for 2018. The internship was started in 2014 to honor the legacy of the late Dr. Douglas Kirby. As part of the internship, Ms. Singh will work directly with ETR researchers, collaborating in data analysis and co-authoring a paper for submission to a peer-reviewed professional journal.
Ms. Singh is a doctoral student at the University of Tennessee, Knoxville, Department of Public Health. She grew up in India and worked for the Ministry of Health and Family Welfare there, engaged in projects addressing sexual and reproductive health. Her original training was in dentistry and she worked for a time as a dentist in India. She explains, "It was through that work that I originally learned how important it is to focus on the health of communities and apply the practices of public health."
Ms. Singh has a great curiosity about health care and education in the United States. "I want to learn everything I can about the U.S. health system and the sexual and reproductive health programs here," she says. "One of my advisors, Dr. Clea McNeely, told me about the amazing people at ETR and encouraged me to consider applying for the Kirby internship. I believe ETR is the best place for me to learn about these things, and I am inspired both by Dr. Kirby's legacy, and the leadership of my advisors here, Dr. Karin Coyle and Dr. Pamela Anderson."
We look forward to an enlightening collaboration with Anisha.
About Douglas Kirby
Dr. Douglas Kirby was a passionate professional who was incredibly generous with his time. He relished the opportunity to explore scientific issues and continuously pondered and tackled complexities of the field.
In his honor, ETR has established the Kirby Summer Internship for graduate students in education, psychology, sociology, public health, epidemiology or a related field, with a focus or interest in sexual and reproductive health.