ETR Welcomes 2015 Kirby Summer Interns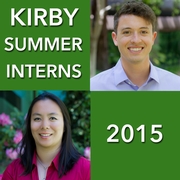 June 9, 2015 – ETR is delighted to welcome this year's Kirby Summer Interns—Monica Sun and William Spatafora. Both hail from the School of Public Health and Tropical Medicine at Tulane University. Their commitment and enthusiasm honor the memory of Dr. Douglas Kirby, a senior research scientist at ETR who dedicated his career to promoting sexual and reproductive health among young people through writing, teaching and research.
Ms. Sun is a graduate of Rutgers, where she majored in public health with a minor in psychology. She will complete her MPH at Tulane in 2016, with an emphasis in epidemiology. She has a particular interest in focusing on the health needs of underserved populations and looks forward to working with new and different populations during her internship at ETR.
Mr. Spatafora graduated from Louisiana Tech University with a major in biology. He will complete his master's this year, with a major in epidemiology. He has a great interest in the science of biostatistics and the power of epidemiology to inform effective responses to disease outbreaks and public health challenges.
---
About Douglas Kirby
Dr. Doug Kirby was a passionate professional who was incredibly generous with his time. He relished the opportunity to explore scientific issues, and continuously pondered and tackled complexities of the field.
In his honor, ETR has established the Kirby Summer Internship for graduate students in education, psychology, sociology, public health, epidemiology or a related field, with a focus or interest in sexual and reproductive health.