ETR's Dr. Vignetta Charles Invited for Panel at United State of Women Summit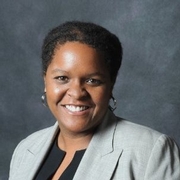 June 7, 2016 – ETR's Chief Science Officer Dr. Vignetta Charles has been invited to participate on the panel "Implementing the National HIV/AIDS Strategy: Advances, Accomplishments, and Future Actions for Women," an even hosted by the Office of National AIDS Policy (ONAP) in conjunction with the United State of Women Summit, June 14-15, 2016.
Charles will focus on advances for women in the HIV continuum of care—the series of steps a person living with HIV takes from initial diagnosis through their successful treatment with HIV medication. Other distinguished leaders invited to speak on the panel include Erin Falvey, Ph.D.; Heather Hauck, MSW, LICSW; Leslie Kantor, Ph.D., MPH; and Grissel Granados, MSW.
Convened by the White House, this important Summit will explore key gender equality issues within the framework of the following topics:
Economic Empowerment
Health & Wellness
Educational Opportunity
Violence Against Women
Entrepreneurship & Innovation
Leadership & Civic Engagement
ETR is excited to witness how this Summit inspires positive change and gender equity in the U.S. and internationally.
About ETR
ETR Associates, a nonprofit 501 (c) (3) Behavioral Health Design firm, has been at the forefront of developing, implementing, evaluating and disseminating science-based health and education interventions and programs for youth, adults and communities for more than 30 years. The organization has served some of the nation's most prestigious agencies with innovative and practical solutions to pressing health and education problems. ETR applies its extensive knowledge, skills and experience in strategy, planning, evaluation, professional and organizational development, and product development, as well as a passion to help organizations navigate change in a complex world, with delivery of science-based solutions that work. ETR is headquartered in Scotts Valley, California, and also has offices in Oakland and Sacramento.