ETR to Present at Bridging the Gaps Conference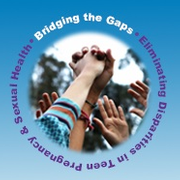 June 3, 2014 – ETR is excited to participate in the 2014 U.S. Department of Health and Human Services Teen Pregnancy Prevention Grantee Conference, Bridging the Gaps: Eliminating Disparities in Teen Pregnancy and Sexual Health, June 4–6, 2014, in Washington, D.C.
This year's conference will bring together teen pregnancy prevention grantees funded by the Administration for Children and Families, Family and Youth Services Bureau (ACF/FYSB); the Division of Adolescent and School Health (DASH); and the Division of Reproductive Health (DRH). The conference presents opportunities to collaborate with other grantees, learn about trends in teen pregnancy and sexual health, identify strategies for sustaining funding, and enhance knowledge of best practices to implement and strengthen programs.
Debra Christopher, MSM, Stephanie Guinosso, MPH, and Annika Shore will share practical insights from cognitive and social neuroscience that apply to TPP/HIV work. Guinosso and Amy Peterson, MSc, will explore how educators can help foster youth resiliency through sexual and reproductive health programs. Regina Firpo-Triplett, MPH, and Karin Coyle, PhD, will discuss current research that supports the flipped-classroom, blended-learning approach and share strategies for converting traditional classroom-based curricula. Peterson will also present on strategies to reduce unintended pregnancy through long-acting reversible contraception (LARC).
Click here for a complete list of ETR's conference presentations.
For more information about the ETR staff participating in the conference, please visit: /about-us/our-staff/
For more information on Bridging the Gaps: Eliminating Disparities in Teen Pregnancy and Sexual Health, please visit: http://www.faingroup.com/tppconference/home.asp