ETR Releases Second Edition of Grade K-5 Health Ed Program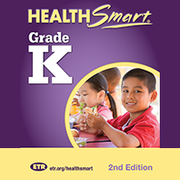 SCOTTS VALLEY, CA – August 24, 2017 – The elementary grade levels of ETR's signature health education program have been updated in a second edition. HealthSmart is a comprehensive K–12 program that gives children and youth the knowledge and skills to make healthy choices, avoid health risks and establish life-long healthy behaviors. The program aligns to the National Health Education Standards and was developed to meet the 15 Characteristics of Effective Health Education Curricula defined by the Centers for Disease Control and Prevention.
With the release of the second edition for the elementary grades, the entire HealthSmart program is now also aligned to the CDC's Health Education Curriculum Analysis Tool or HECAT, which delineates the concepts and skills that should be taught within each grade span, from kindergarten to high school, to enable students to achieve key healthy behavior outcomes in nine health content areas.
HealthSmart lessons and activities are tailored to the developmental capabilities of elementary students at each grade level (K–5), and cover these key health content areas:
Emotional & Mental Health
Personal Health & Wellness
Injury & Violence Prevention
Nutrition & Physical Activity
Tobacco & Alcohol Prevention
Sexual Health (Grades 4 & 5)
All elementary grades come with a Teacher Guide that contains the easy-to teach lessons, with clear objectives, teaching steps and assessment. Grades K–2 come with 6 Classroom Posters (17" x 22") that provide a colorful, large-format way to reinforce the practice of key healthy behaviors; while Grades 3–5 now feature Student Workbooks that include all student reading and activity sheets and provide a complete portfolio of student work for review and assessment.
Colorful images are used to introduce health concepts and skills, stimulate student thinking and keep lessons lively and fun. Images are provided in a PowerPoint slide show and PDF formats. Teacher Masters include take-home family sheets, teacher pages and activity sheets for group projects.
Educators who purchase HealthSmart have access to the HealthSmart Teacher Support Website that features a wealth of free digital resources, including the Lesson Planning Tool that gives teachers the power to quickly customize a HealthSmart lesson plan.
Learn more about ETR's HealthSmart program.
See the new edition on the ETR Store.
To learn more about ETR or the topic of this article, contact Matt McDowell, Director of Marketing.