ETR Publishes Seventh Edition of Sexuality Education: Theory & Practice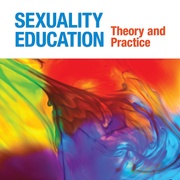 SCOTTS VALLEY, CA – August 10, 2018
ETR is proud to be the publisher of the new seventh edition of the popular textbook Sexuality Education: Theory and Practice by Clint E. Bruess and Elizabeth Schroeder. The book is a staple in higher education courses on human sexuality and educator preparation programs, and is also an excellent resource for public health professionals, health education program administrators and those who provide sexuality education in community-based programs and school settings. It not only empowers future educators to confidently teach elementary, secondary and college students, as well as community members, about human sexuality, but is also a helpful reference for seasoned education professionals seeking current information and successful methods for teaching this material.
In addition to helping sexuality education professionals focus on and assess their own knowledge and attitudes about sexuality, the practical ideas offered throughout the text can be applied to almost any sexuality education program and illustrate how to address the needs of learners of a variety of age groups, races, ethnicities, cultural and religious backgrounds, and diverse sexual orientations and gender identities.
In particular, the seventh edition:
Highlights important progress that has been made in the United States with regard to sexuality education funding, programs and policies, as well as the current status of these initiatives.
Focuses on a robust pedagogy with numerous teaching and learning resources, including Key Concepts, Insights, Summaries, References, Suggested Readings, Web Resources, Case Studies and a Glossary.
Integrates the most current language and best practices for ensuring that sexuality education programs are inclusive and affirming of all gender identities and sexual orientations.
Includes the latest technology and resources to support advocating for and implementing comprehensive sexuality education in the classroom and community.
"Every sexuality educator should read this book. It presents valuable information on traits of effective educators, how to implement and evaluate programs, and how to manage opposition."
— William L. Yarber, HSD, Senior Scientist, The Kinsey Institute
Provost Professor, Indiana University School of Public Health-Bloomington
---
"This book truly encompass holistic approaches and methods, making it a must-have for work with audiences with diverse experiences, identities and needs."
–Luca Maurer, MS, Founding Director,
The Center for LGBT Education, Outreach and Services, Ithaca College
---
"Successfully interweaves theory and practice, filling a tremendous gap in the field. A must-read for all, from the novice to the seasoned sexuality educator."
–Consuelo Bonillas, PhD, Professor,
School of Health & Human Performance, Kean University