ETR Publishes New E-Cigarette Materials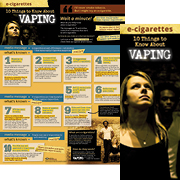 March 28, 2014 – ETR has just published a new pamphlet and companion poster on e-cigarettes. With studies showing the use of e-cigarettes growing rapidly among all age groups, there's a strong need for clear information about these products.
Companies aggressively market their e-cigarettes as healthy alternatives to smoking conventional cigarettes and as useful cessation devices. However, the limited research that exists indicates these media messages are misleading.
The new pamphlet and companion poster, both titled "E-Cigarettes: 10 Things to Know About Vaping," debunk the message that e-cigarettes are safe, report that the products contain some of the same toxins found in tobacco cigarettes, and emphasize the fact that e-cigarettes are not regulated or approved as cessation devices.