ETR Introduces Digital K-12 Health Education Curriculum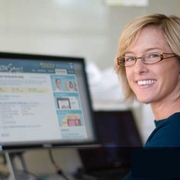 With the ultimate goal of promoting healthy growth and development of youth by giving them the knowledge and skills for making healthy choices, ETR has launched a break-through program, the HealthSmart Digital K-12 Health Education Curriculum. HealthSmart Digital focuses on the primary areas of risk for children and adolescents identified and monitored by the Centers for Disease Control and Prevention (CDC), including Emotional & Mental Health, Personal Health & Wellness, Sexual Health (including Abstinence and HIV/STD & Pregnancy Prevention, Nutrition & Physical Activity, Tobacco, Alcohol & Other Drug Prevention, and Violence & Injury Prevention.
The HealthSmart Digital Curriculum includes:
E-book versions of all lessons for each grade level, along with instant links to all student materials and teacher masters. These include full-color images, posters and reading sheets. Slides, student journals and a health terms glossary are also included.
Updated content that meets the National Health Education Standards (NHES) and the recommendations of the CDC's Health Education Curriculum Analysis Tool (HECAT).
Support for the Common Core State Standards.
A new Lesson Planning Tool that enables educators to select particular content areas, skills and healthy behavior outcomes to generate a personal lesson plan containing the lessons most relevant to their students' specific needs and desired outcomes.
An emphasis on assessment, with objectives and standards for each lesson linking to clear outcomes assessed through student activity sheets and other performance tasks, as well as new scoring rubrics that provide guidance for evaluating student mastery of knowledge and skills.
Access to numerous teacher support resources on the HealthSmart website.
About HealthSmart
HealthSmart has been leading the way in comprehensive school health education for more than 10 years. HealthSmart has reached more than 1 million students from New York to mid-sized cities and rural communities throughout the United States.
To learn more about HealthSmart Digital or to request a free trial, please visit www.etr.org/healthsmart, or contact John Henry Ledwith at
1-888-220-9455 ext. 204, jhl@etr.org.
About ETR
ETR offers science-based health and education products and programs, providing solutions that work for health professionals, educators and consumers throughout the United States. We employ proven methods that engage individuals, families and communities in eliminating health and educational inequities, managing risk and making optimal health choices.