ETR Awarded Consultation Services Engagement with International Nonprofit Charity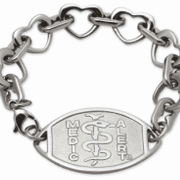 November 10, 2014 – ETR has recently been awarded a one-year consultation engagement with MedicAlert Foundation, an international nonprofit charity founded in 1956, that pioneered the use of emergency medical ID products. Today, MedicAlert provides a wide selection of products that are uniquely linked to a personal health record and a live 24/7 emergency response service.
ETR will provide strategic planning, capacity building and transitional leadership services support during the engagement for the MedicAlert Foundation. The engagement is led by ETR CEO Dan McCormick and ETR Manager of Strategy and Business Development David Yeung, and will draw from the broad expertise of ETR's professional service, research and solution teams.
"We feel privileged and honored to be supporting MedicAlert. The foundation's mission, to protect and save lives, is very united with our work and programs at ETR. This engagement represents a great opportunity to support MedicAlert in its next period of growth, and expand ETR's impact in advancing science, reducing risk and improving lives," stated Dan McCormick.
About ETR's Professional Services: ETR provides consultative and advisory services to help mission-driven organizations achieve their mission and vision. ETR's experienced team includes executives, scientists, educators and consultants with over thirty years' experience in working with organizations in health and education and empowering those organizations to create increased value through transformative change.