ETR Appoints Dr. Vignetta Eugenia Charles as Chief Science Officer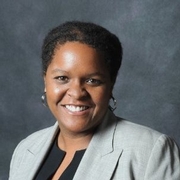 September 2, 2015 – ETR announced today that it has appointed Dr. Vignetta Eugenia Charles as its Chief Science Officer. Charles most recently was the senior vice-president for AIDS United and is on the Presidential Advisory Council on HIV/AIDS (PACHA). ETR is a leading publisher, educator and designer of science-based health and education prevention programs, and provides the largest global offering of sexual and reproductive health interventions and programs.
Dr. Charles is joining ETR at an exciting and critical time, as the company continues to expand its programs and research with the recent acquisition in July 2015 of Select Media, an organization that pioneered culturally targeted, award-winning, effective materials used by community groups, health departments, schools, government agencies, departments of education, youth groups and clinics nationwide.
Drawing on rigorous evidence, ETR's translational research-to-practice model takes complex research and designs it into understandable, usable and scalable programs that enable healthy outcomes for youth, adults and communities throughout the United States. ETR is the only multidisciplinary organization of health educators, program developers, curriculum specialists, technologists and social scientists in the nation. The organization innovates, designs, evaluates, publishes and offers training programs all under one roof. ETR partners with a broad range of organizations, including government agencies, school districts, NGOs and CBOs. ETR builds sustainable relationships that enable its clients and partners to collaborate on the design of their own processes and programs to advance science, reduce risk, create opportunities and improve lives.
"We can't think of a better appointment than Dr. Charles to lead the way as our chief science officer," explains Dan McCormick, CEO of ETR. "As demonstrated throughout her distinguished career, her efforts and drive for ensuring real outcomes, her history in evaluation, and her passion for social justice ensure that Vignetta will be an incredible asset to ETR and our stakeholders."
"I'm thrilled to be returning to ETR—which is uniquely positioned at the nexus of evidence-based interventions, translational science, and the development of strategies, solutions and products to improve behavioral health," said Dr. Charles. "While continuing to conduct implementation science at the intersection of violence, trauma and HIV, and to influence public policy, I am also excited to be embarking on broader behavioral health design, training and product delivery with this stellar team at ETR."
As senior vice-president for AIDS United, Charles was appointed to the Presidential Advisory Council on HIV/AIDS (PACHA). Formed by Executive Order in June 1995, PACHA provides advice, information and recommendations to the Secretary regarding programs and policies related to HIV prevention, care and research. Members are selected for their particular expertise in, experience with, or knowledge of matters concerning HIV and AIDS. At AIDS United, Dr. Charles was responsible for overseeing grant-making and capacity-building programs. She is an alumna of the University of California at Berkeley, the Harvard School of Public Health, and the Johns Hopkins Bloomberg School of Public Health. Her work experience includes diverse roles, such as serving as the national health educator for the Commonwealth of Dominica, West Indies; initiating a teen pregnancy prevention portfolio for the William and Flora Hewlett Foundation; and coordinating HIV-prevention programs in both San Francisco and Oakland, California. She also serves on the Board of Directors of the Center for Health and Gender Equity (CHANGE) and the Sexuality Information and Education Council of the United States (SIECUS).
About ETR
ETR Associates, a nonprofit 501 (c) (3) Behavioral Health Design firm, has been at the forefront of developing, implementing, evaluating and disseminating science-based health and education interventions and programs for youth, adults and communities for more than 30 years. The organization has served some of the nation's most prestigious agencies with innovative and practical solutions to pressing health and education problems. ETR applies its extensive knowledge, skills and experience in strategy, planning, evaluation, professional and organizational development, and product development, as well as a passion to help organizations navigate change in a complex world, with delivery of science-based solutions that work. ETR is headquartered in Scotts Valley, California, and also has offices in Oakland and Sacramento.