ETR Acquires Select Media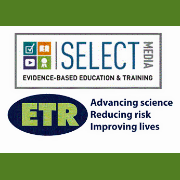 July 29, 2015 – ETR Associates announced today that it has acquired Select Media, a producer, publisher and distributor of award-winning and evidence-based programs for promoting positive health behaviors among communities at risk. Select Media has pioneered culturally targeted, award-winning, effective materials used by community groups, health departments, schools, government agencies, departments of education, youth groups and clinics nationwide. ETR, a leading publisher, educator and designer of science-based health and education prevention programs, will now feature the largest global offering of sexual and reproductive health interventions.
Drawing on rigorous evidence, ETR's translational research-to-practice model takes complex research and designs it into understandable, usable and scalable programs that have enabled healthy outcomes for youth, adults and communities throughout the United States for over 30 years. ETR is the only multidisciplinary organization of health educators, program developers, curriculum specialists, technologists and social scientists in the U.S. The organization innovates, designs, evaluates, publishes and offers professional development programs all under one roof. ETR partners with a broad range of organizations, including government agencies, school districts, NGOs and CBOs to build sustainable relationships that enable its clients and partners to collaborate on processes and programs that serve to advance science, reduce risk, create opportunities and improve lives.
"By teaming up with Select Media, we now have the opportunity to create broader and more innovative 21st-century programs, products and services to address emerging and future health and education needs," explains Dan McCormick, CEO of ETR. "Since we opened our doors in 1981, ETR has touched millions of lives around the world. We are committed to putting the best science to work to create innovative and effective ways to improve education, public health and community well-being."
"ETR has the leadership, experience and infrastructure in place to extend the reach in ways we could not do on our own, and, frankly, that's exciting," said Beth Wachter, Founder and President of Select Media. "There is an urgency to educate high-risk youth with the critical skills they need to lead healthier lives. Teaming up with ETR will help achieve this goal."
ETR key funders and partners include:
Centers for Disease Control and Prevention
California Department of Public Health
National Science Foundation
Google
The Grove Foundation
The David and Lucile Packard Foundation
For a complete list of clients and funders visit ETR's website.
About Select Media
Select Media has produced, published and distributed award-winning evidence-based programs effective in promoting positive health behaviors among communities at risk for over 20 years. Its curriculum and media materials are based on extensive research conducted by leading researchers in the fields of behavioral health, communication, community and public health.
About ETR
ETR, a nonprofit 501(c)(3) Behavioral Design firm has been at the forefront of developing, implementing, evaluating and disseminating science-based health and education interventions and programs for youth, adults and communities for more than 30 years. The organization has served some of the nation's most prestigious agencies with innovative and practical solutions to pressing health and education problems. ETR applies its extensive knowledge, skills and experience in strategy, planning, evaluation, professional and organizational development, and product development, as well as a passion to help organizations navigate change in a complex world, with delivery of science-based solutions that work. ETR is headquartered in Scotts Valley, California, and also has offices in Oakland and Sacramento.