ETR Welcomes 2016 Kirby Summer Interns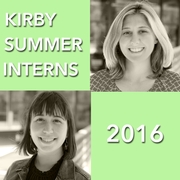 June 17, 2016 – ETR welcomes our 2016 Kirby Summer interns, Melissa Donze and Emily Waterman.This is the third year of ETR's Kirby Summer Internship, a unique program which honors the legacy of the late Dr. Douglas Kirby. Ms. Donze and Ms. Waterman will work directly with ETR researchers, collaborating in data analysis and co-authoring a paper for submission to a professional journal.
Melissa Donze is pursuing an MPH at Columbia University Mailman School of Public Health, emphasizing Health Promotion Research and Practice. She brings a strong background in policy analysis and grants management. Before beginning her graduate studies, she worked with AIDS United, offering capacity-building and technical assistance and pursuing formative research addressing the HIV epidemic. She has worked with HIV nonprofits in the U.S. and internationally.
Emily Waterman is a PhD student at Penn State in the Human Development and Family Studies department. She is interested in the promotion of sexual health and the prevention of maladaptive sexual health outcomes among adolescents and young adults. She is currently pursuing research focusing on sexual assault among college students.
Learn more about our 2016 interns in this blog post.
About Douglas Kirby
Dr. Douglas Kirby was a passionate professional who was incredibly generous with his time. He relished the opportunity to explore scientific issues, and continuously pondered and tackled complexities of the field.
In his honor, ETR has established the Kirby Summer Internship for graduate students in education, psychology, sociology, public health, epidemiology or a related field, with a focus or interest in sexual and reproductive health.