Dr. Richard P. Barth Receives 2015 Douglas B. Kirby Adolescent Research Award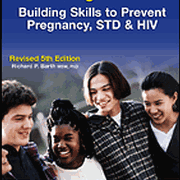 October 13, 2015 – ETR congratulates Richard P. Barth, PhD, this year's recipient of the Douglas B. Kirby Adolescent Research Award, presented by Healthy Teen Network, in recognition of his dedication to research and the development of evidence-based prevention programs that promote adolescent health. Dr. Barth is the author of Reducing the Risk: Building Skills to Prevent Pregnancy, STD & HIV. Published by ETR, Reducing the Risk was the first evidence-based prevention program to be rigorously evaluated and prove effective in improving adolescent sexual risk behaviors in three independent research studies in three different states.
Dr. Barth is currently Dean, School of Social Work, at the University of Maryland. He previously served as a chaired professor at University of North Carolina and University of California, Berkeley. He is the co-author or editor of 12 books and over 200 chapters and articles. A fellow and current President of the American Academy of Social Work and Social Welfare, he sits on numerous national research advisory boards, including the Durham Family Initiative, the California Evidence-Based Practice Clearinghouse and the Prevention and Family Recover Initiative. He has directed more than 50 studies, and served as Principle Investigator of Berkeley's Child Welfare Research Institute and as Co-Principle Investigator of the National Survey of Child and Adolescent Well-Being, the first national study of child welfare services in the United States. He has been a lecturer and consultant to universities and governments in many states and countries, and has testified before Congressional and state government subcommittees.
The award is named in honor of the late Dr. Douglas Kirby, a senior research scientist at ETR and one of the world's leading experts on school and community programs to reduce sexual risk taking among youth. It will be presented to Dr. Barth at the 2015 Healthy Teen Network Conference in Baltimore, Maryland.