CEO Vignetta Charles, PhD, Joins the Elizabeth Taylor AIDS Foundation Advisory Board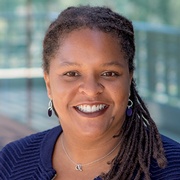 September 17, 2019 (Oakland, CA) – ETR CEO Vignetta Charles, PhD, has joined the Advisory Board of the Elizabeth Taylor AIDS Foundation (ETAF). Founded by Elizabeth Taylor in 1991, ETAF supports programming which provides direct care and services to people affected by HIV and AIDS. ETAF also engages with advocacy and education initiatives to advance the organization's goal of an AIDS-free world.
In the nearly 40 years since the start of the AIDS pandemic, there have been stunning scientific advances around prevention and treatment. Despite the advances, HIV and AIDS are still major crises and the stigma around HIV continues to be a powerful force.
With humility and gratitude, Dr. Charles accepted the appointment to the ETAF Advisory Board, noting that the "response to the pandemic has been changed by Elizabeth Taylor's activism in ways we could not have imagined at the outset. Through the foundation that bears her name, she continues that legacy even after her death."
About Dr. Vignetta Charles
Vignetta Charles, PhD, is Chief Executive Officer at ETR. Prior to her appointment as CEO, Dr. Charles was Chief Science Officer at ETR—focused on unifying and translating ETR's science-based approaches to training and research. Her research emphasis is on behavioral health related to the intersection of HIV/AIDS, sexual health and mental health.
She came to ETR from AIDS United, where she served as Senior Vice President, guiding strategic programming for the organization, garnering public and private resources for programs, leading efforts to measure and document program outcomes, and developing an expanded portfolio on the translation of science to community. Prior to her work at AIDS United, Dr. Charles developed and rigorously evaluated innovative, theory- and evidence-based sexual and reproductive health and HIV prevention programs. She has focused her professional work on issues that disproportionately impact politically disenfranchised communities, with a focus on urban sexual and reproductive health and an emphasis on HIV prevention.
Dr. Charles served on the Presidential Advisory Council on HIV/AIDS from 2014-2017 advising the White House and Health and Human Services on HIV/AIDS domestically and globally. She currently serves on the Board of Directors for the Center for Health and Gender Equity and the Executive Advisory Board of BEAM (Black Emotional and Mental Health) Collective. Other previous work experience includes serving as the national health educator for the Commonwealth of Dominica, West Indies, initiating a teen pregnancy prevention portfolio for the William and Flora Hewlett Foundation, and coordinating HIV and pregnancy prevention programs in both San Francisco and Oakland, California.
She is an alumna of the University of California at Berkeley for undergraduate work, the Harvard School of Public Health for a Master's degree in health and social behavior, and the Johns Hopkins Bloomberg School of Public Health for her PhD in the Department of Population, Family, and Reproductive Health.
About the Elizabeth Taylor AIDS Foundation
Elizabeth Taylor co-founded The Foundation for AIDS Research (amfAR) in 1985 and regularly lobbied President Ronald Reagan and Congress to address the crisis. She established the Elizabeth Taylor AIDS Foundation (ETAF) in 1991 to provide direct care, along with love and moral support, to the most vulnerable patients. Inspired by her vision, today ETAF supports prevention and direct efforts in the U.S. and Malawi, one of the countries most affected by the HIV/AIDS pandemic.