Award-Winning TEC Students Invited to White House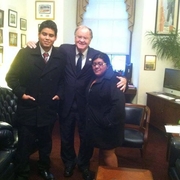 December 11, 2013 – ETR's TEC (Technology-Education-Community) program has gone to the White House. Marcus Cisneros and Morelia Lopez were part of the student team from Watsonville High School in California that created an award-winning college guide app. They recently returned from Washington, D.C., where they presented their design on Capitol Hill and attended a White House briefing and reception honoring their achievement.
The students developed their app through TEC's after-school program. Sponsored by ETR, the Global Information Internship Program at UCSC and the local school district, the TEC program encourages youth in underserved communities to pursue careers in information technology.
The app earned the students fellowships for Video Games Innovation awarded by the Entertainment Software Association and the Hispanic Heritage Foundation's Leaders on the Fast Track. During the D.C. trip, the students attended a panel at the Capitol building, where they met with members of Homeland Security, the CEO of the Electronic Software Association, and the director of the White House Initiative on Education Excellence for Hispanics, among others.
Cisneros and Lopez were one of only four teams selected to demonstrate their project during the official briefing to White House staff. California congressman Sam Farr and Rafael Lopez, a former mayor of Watsonville and current senior policy advisor to President Obama, also met with the students.
"Marcus and Morelia did a tremendous job representing TEC, the Pajaro Valley Unified School district and Watsonville High School. It was a very proud moment to see them speak at the White House in front of all the national leaders," said Jacob Martinez, the project director for TEC, who, along with Rosa Hernandez from the Pajaro Valley School District, accompanied the students on the trip.
Martinez explained that TEC is helping to build a workforce in Watsonville that represents the growing demographic of the state and county. "The tech industry can capitalize on it and work with this community to build products for tomorrow."
Student Marcus Cisneros noted that creative kids "just need to be exposed to the industry, and they'll prove they can do awesome work."
TEC's goal for next summer is to identify youth at all three area high schools to participate in the summer program and make a custom app for each school.
For more information about the TEC program, contact Jacob Martinez at jacobm@etr.org.