A Conversation with Kirby Intern Brittany Nielsen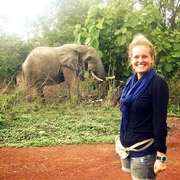 June 10, 2014 – Brittany Nielsen, one of ETR's Kirby Summer Interns for 2014, obtained her undergraduate degree at University of California, Berkeley, with a double major in molecular and cell biology and religious studies. She is currently pursuing her Master's in Public Health at Brigham Young University, as part of a small program that emphasizes the science and practice of health promotion.
Brittany will be spending the summer working closely with ETR's research team. She took a few minutes on her first day here to talk with Newsletter Editor Marcia Quackenbush. Here's a report on their conversation.
Brittany Nielsen is a fine match for ETR's multidisciplinary and eclectic team. "My interests have always been varied," she tells us. "I'm fascinated by biology, interested in religious studies, and have a passion for public health. I love both research and the application of research in the real world."
She was excited to be awarded the Kirby Internship. "ETR's work is a great reflection of my own interests and experience," she explains. "ETR develops, implements, evaluates and disseminates programs that work. That full spectrum speaks to my own work style and range of interests."
Brittany is also fascinated by the ways culture influences adoption of better health behaviors, and believes this is a critical element of successful public health interventions. She acquired some expertise in this arena when she spent 5 months in Ghana working on health promotion projects and researching the interaction between local religious beliefs and health practices. As a result of this experience, Brittany grew to understand the importance of both the biological and cultural agents that determine an individual's health outcomes. She shared some of her observations.
What are some of the things you learned in Ghana?
"I learned a great deal about the ways local religious beliefs affect health care choices. In much of Ghana, you see a blend of Christian beliefs and traditional tribal spirituality. If you go in and try to do health promotion work without recognizing this important aspect of Ghanaian life, you won't succeed in your efforts. You have to be open to the unique ways people have brought their belief systems together and how that translates to the way they live their lives."
So what does this look like in practice?
"Well, we can't simply go to a place like Ghana and build a hospital and expect that will help. If people don't believe in a health model that involves hospitals—if they don't see that institution fitting into their vision of how the world works—they won't go to the hospital. For locals, every physical issue also has a spiritual component. This is something Westerners often do not consider.
"I learned how essential it is to understand a culture's central beliefs and use this understanding as a foundation for any model of health promotion. Actual changes in health behaviors needed to come from within the culture, not from outsiders. To succeed in Ghana, we needed to engage the traditional healers and cultural leaders and get their help to carry out the interventions."
How did that work?
"A great example of this can be found in how female genital mutilation (FGM) was greatly reduced in Ghana. While it had been against the law for many years, it wasn't until a council of tribal leaders decided to end the practice that change was achieved. Entire communities came together to participate in ceremonies and offerings that were held to recognize and symbolize the end of FGM.
"The law alone was not effective at eliminating FGM. A solution required a culturally acceptable approach as well. Through my research, I was able to see these situations play out. Often, individuals would go to local spiritual leaders before or instead of consulting medical professionals. A partnership between local healers and medical professionals would be the most effective way to address many of the most pressing health concerns in these populations."
And how does all of this apply to work you might do in the U.S.?
"The people in Ghana are like people everywhere. We all tend to 'cluster' in our belief networks. We associate with like-minded people who share our beliefs about meaning, purpose and how the world works. These beliefs are the basis of the prevailing culture in any community and are a starting point when considering the social determinants of health, a framework vital to the efforts we make to improve health anywhere in the world.
"I believe one of the keys to success with any population—villagers in Ghana, high school students in Utah, or even legislators—is to understand what defines that culture and community. By creating solutions guided by the same principles that define the community, we can be much more effective in everything we do."